Steam locomotives are my passion. To me, no other machine expresses elemental power in such an emotive, impressive fashion. And with what style and variety. British, French, American or German locomotives – and others – all had individual aesthetic appeal, born of their different national cultures and technical developments.
I was born in 1946, and was 22 when the last steam locomotives ran in regular service in Britain. So I remember the glorious phenomenon that was the steam railway. And at the centre of it all were the engines, by then not always so clean any more, but still giving voice to their working, and fascinating all who fell under their spell.

From an early age, I felt the need to express my affection for steam engines, and consequently drew and painted them ceaselessly. At 16, a couple of my paintings were published in the 'Model Railway News' and I received a small number of commissions. One of my pictures from that time – an LNER A1 Pacific – is shown above. But then cars and girls took over, along with a career as a graphic designer and image consultant. I was a partner in a practice that worked for the London Underground, British Rail and Eurostar (among others), but I kept my secret passion just that – secret.
Early retirement and a move to France gave me the opportunity to pick up where I left off. Soon after arriving here, I won the prestigious Prix Schefer and, along with it, an appreciative audience. I have been featured in the magazines 'Correspondances Ferroviaires', 'La Vie du Rail' and 'Objectif Rail'. A section was devoted to my work in Clive Lamming's 'Trains de Légende' encyclopaedia published by Atlas in 2008. I was awarded the 'Prix du Salon' in 2007 at the 'Salon du Printemps', Dourdan and have exhibited at the Salon de Chartres, Rosny Rail (Paris), Noyelles-sur-Mer and at Cogolin, near St Tropez. Two of my paintings formed part of the exhibition 'Un siècle Pacific' at the Cité du Train (French National Railway Museum) in Mulhouse during 2008. In the same year, I was invited to exhibit at the annual autumn 'salon' in the Grand Palais, Paris, as part of the Group 'Maxiréalisme', led by Dan Jacobson. I have exhibited there every year since then. In 2011, the 'Cité du Train' mounted an exhibition of my work, which included around 30 paintings. This coincided with the publication of my book (see above) by LR Presse.
I now produce 85% of my work to order, so in a sense the choice of subject is no longer my own. However, I do get chance to persuade clients to accept some of my preferences!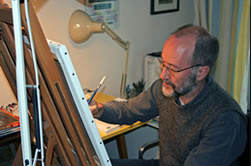 In my pictures, I try to express action and moods, with the engines generally the most prominent elements. Proportions and details I make fairly accurate, but paintings are not photographs and I aim to preserve that magical quality whereby a lively brush-stroke can be seen as something real. In other words, the imagination of the viewer does some of the work and, thereby, becomes involved in the picture.
Most of the pictures are of French scenes, some British and I would love to paint trains of other countries as well. I have also painted electric locomotives (which are not locomotives in a literal sense, of course), and cars.
But my first love is steam, and I hope you find this emotion expressed through some of the images on this website.